Samsung quietly unveiled the Galaxy Tab S4 today. The S4 comes as an upgrade over last year's Tab S3. This here is one of the only high-end Android tablets which will be available in the market to rival the upcoming 2018 versions of the iPad Pro. Samsung has a done a lot of right things, at least that's what seems from the surface.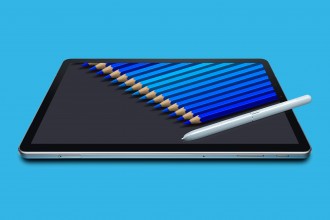 The S4 features a 10.5" Super AMOLED touchscreen with a resolution of 2560 x 1600 pixels. The screen does also support the S Pen, which according to Samsung will be available in the box along with the tablet. All of this is powered by Qualcomm's 2017 flagship chip, the Snapdragon 835. The Tab S4 features 4 Gigs of RAM and either 64 or 256 GB of ROM which is expandable using a microSD card.
The tablet is backed by a rather large 7300 mAh battery which is capable of fast charging and Samsung does provide a 15W fast charger in the box. According to Samsung, the battery should last for about 16 hours of video playback.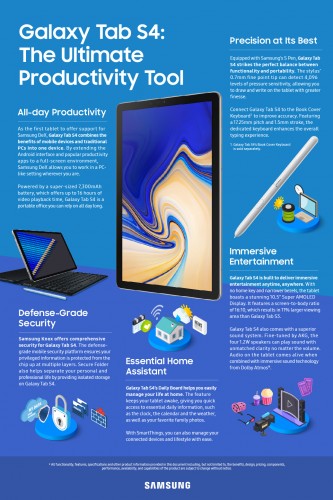 Talking about the special additions which the S4 comes with. Firstly, similar to the iPad Pro the S4 now features quad stereo speakers which support Dolby Atmos and have been tuned AKG. Secondly, the Tab S4 brings further improvements to Dex, it features a Dex mode which basically converts the UI into (as the name says) a desktop like a mode where multitasking is much easier.
Samsung will also be selling keyboard book covers for the device which will set you back quite a lot of money. The Galaxy Tab S4 is available for pre-order and the 64GB variant starts at $650 and the 256GB version can be had for $750. You can watch the official introduction video released by Samsung here.