Living in an era where a new smartphone gets launched almost every other day, it can get rather tough to choose the smartphone most suitable for your needs given the plethora of options available in the market. With good phones getting cheaper and cheap phones getting better, the line between flagship devices and mid-rangers seems to be getting thinner by the day with very less to differentiate between the two. Having used a mid-range smartphone for a couple of years, I finally convinced myself into trying out a flagship device from a tier-one manufacturer and got myself a Galaxy S8 towards the fag end of 2017. While the smartphone held up pretty well and performed just the way I expected it to, the battery was a major let down which made me make a drastic switch to the Xiaomi Redmi Note 5 Pro, which costs a fraction of the S8. After using the Note 5 Pro for just over a week, I guess I'm able enough to share my experience switching from a flagship-grade Samsung Galaxy S8, to India's "Naya Note", the Xiaomi Redmi Note 5 Pro. (image-gsmarena)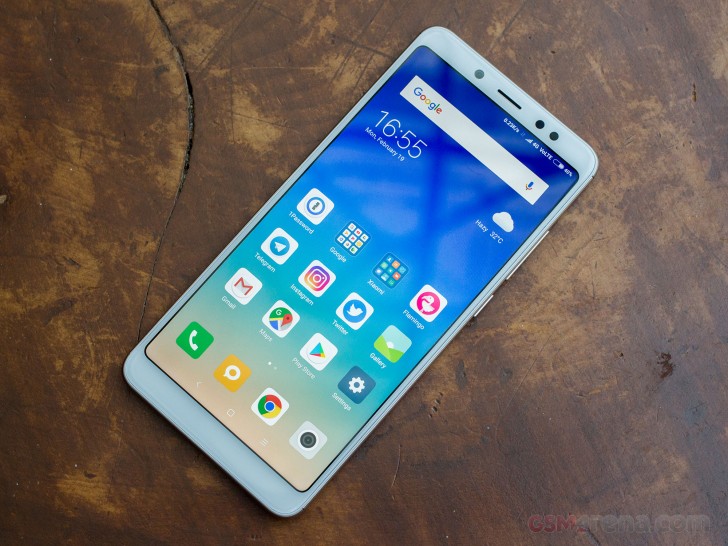 The first major shift was in terms of build and design. Don't get me wrong, the Redmi Note 5 pro has a solid feel in the hand and looks pretty dope too, but has the generic 'metal to the back, glass to the front' design we've been seeing on Xiaomi devices for a long time now. Even though the Note 5 Pro sports an 18:9 display panel, the bezels on the front are still very prominent, which isn't appealing at all. In short, there's nothing that sets it apart. On the other hand, the Galaxy S8 was one of the early adopters of the "bezel-less" look and boy oh boy, the smartphone looked gorgeous. Slim bezels on the top and bottom, a display that melts to the edges, and a congruent glass back to give it a symmetric look. If there's one gripe that I had with the S8's design (no it's not the awkwardly placed fingerprint scanner), it would be the fragility that comes with having glass on either side, thanks to which I had to be extremely cautious while using the smartphone even with a case on. Not to forget, the S8 was a treat to use with a single hand, thanks to the small footprint despite the large display. The Note 5 Pro, on the other hand, seems like a more practically built phone, with an easier to reach fingerprint scanner (ah, I said it), but is surely not meant for single-handed usage. If you ask me, I don't really mind the switch. Also, a cold metal back is slightly more appealing than smudged glass. (image-phonearena)
Before I made the switch, the aspect which I pondered upon the most was performance, as that's what I look for in a phone. I know I might have triggered some of you given that a performance-oriented smartphone user bought a Samsung device, but jokes about Touch Wiz (which is now dead) out of the way, the Galaxy S8 was no slouch. Samsung Experience UI seems to be polished and though I've heard several users complaining, I personally faced no issues with performance in the long run. Yes, there's a ton of features which Bixby offers which you won't use too often, but I'm not complaining. Jump to the day I walked out of a Mi Home with my new Redmi Note 5 Pro (duh, couldn't wait for flash sales), I was pleasantly surprised with the capabilities of the new Snapdragon 636. Day to day performance was as smooth as I wanted it to be. I don't play games so gaming performance isn't something that concerns me. However, I'm sure there's a major difference while performing CPU intensive tasks like video editing and rendering, but let's be honest, who really does that on a phone too often? (image-technewswithme)
Though I was aware of this before making the switch, the camera (rear-facing to be specific) is what you shell out those extra bucks on flagships for. Again, don't get me wrong, the Redmi Note 5 Pro's dual rear cameras would impress most, given the price range, but to someone who's carried a smartphone with one of the best cameras of its time, the Note 5 Pro falls short. The difference is noticeable more so in low light scenarios, thanks to the extremely high f/1.7 aperture on the S8 compared to the f/2.2 on the Note 5 Pro making the difference more apparent. I rarely take selfies so I'm not really bothered about the front-facing cameras, but the Note 5 Pro seems to be on par with the S8, thanks to its huge 20MP sensor. Also, the Note 5 Pro sports portrait mode for both cameras which the S8 natively lacked, so it's a win-win. (image-androidcentral)
Another aspect that I was aware of would be a huge downgrade, is the display. The S8 has a QHD+ Super AMOLED panel (though I used it at 1080p thanks to the battery woes), and it's nothing new to admit that Samsung has the best displays in the market. The Redmi Note 5 Pro on the other hand sports an IPS LCD panel with contrast levels not even close to the S8's inky blacks and saturated colours. The Note 5 Pro's display is good, but having used the S8, I'm (obviously) not impressed.
Coming to what compelled me to make the switch, that insane (negatively for the S8, positively for the Note 5 Pro) battery. The S8 would last me just about half a day on a full charge with the average SOT being a little more than 3 hours. The Note 5 Pro, on the other hand, drove me nuts trying to drain the battery. At the end of each day, I'm left with 35-40% of juice with SOTs above 5.5-6 hours which is crazy. Even though the S8 supports fast charging, charging times would range anywhere between 90-100 minutes which is still considerably high, especially while you're going about your day. Since I charge my phone overnight, the Note 5 Pro's charging time hasn't been an issue for me as I don't need to charge it any time before calling it a night. I've had the S8 die on me in situations wherein I needed to use the navigation or take a few shots with the camera, so what's the point in having an excellent camera if your phone is switched off? (image-techtag YT)
Yes, I do miss some nifty features like the IP68 rating, thanks to which I could use my phone in the rain, or even the convenience of wireless charging or having a reversible Type-C port which is future-proof, compared to micro USB on the Note 5 Pro. But looking at the bigger picture, the Note 5 Pro satisfies all my needs and does a notably good job at it, while making a few compromises, which given the mammoth battery and smooth performance, are quite negligible. The Redmi Note 5 Pro is a great all-around device which isn't perfect by any means and is no way a replacement to a flagship, but it does a few things right which the Galaxy S8 couldn't, while failing to do a few that the S8 could, but fortunately, the things it can do easily outweigh the things it can't, and hence, I'm sticking to the Redmi Note 5 Pro until I get better value for my money, probably with the next Redmi Note?